Advertisement

&nbsp

&nbsp
Key Takeaways 
Ether withdrawals also coincided with inflows to the ETH 2.0 staking contract.
The remarkable exchange withdrawals are expected to boost the price of ETH.
Ethereum is printing another bullish indicator in the market that points to an imminent price wave. Per on-chain data by IntoTheBlock, the Ethereum market has recorded its largest single-day exchange outflow in 2022.
ETH withdrawals from exchanges accelerate
Market and on-chain analysis tool IntoTheBlock revealed the incredible phenomenon. Over the past 72 hours, over 180,000 ETH has been withdrawn from major centralized exchanges. At an average price of $2,750, the ETH withdrawals are currently worth well over $490 million.
IntoTheBlock explains that the occurrence is highly bullish for the price of ETH. This is because the last time a similar magnitude of ETH withdrawals were made from exchanges, it was followed by a 15% price increase within 10 days.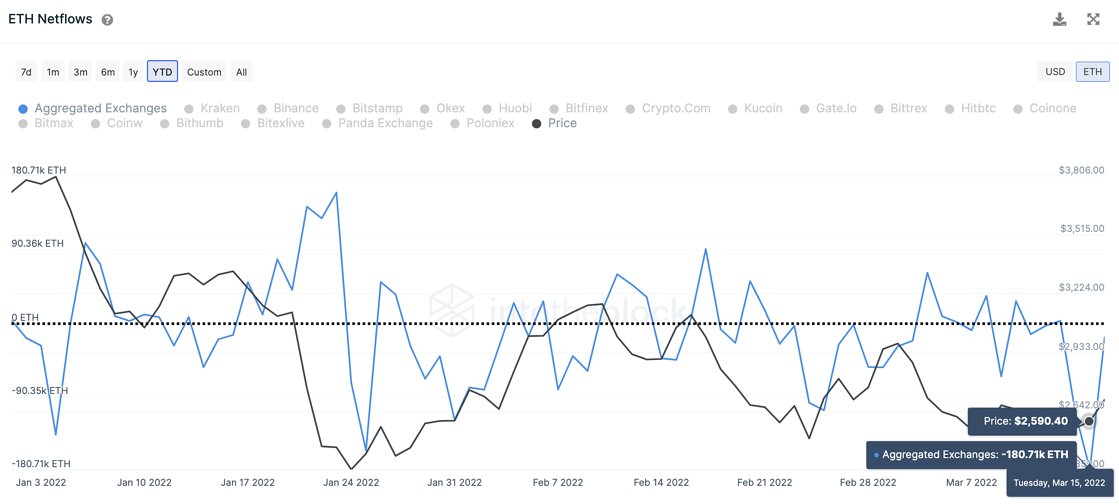 Equally positive for the price is the possible destination of the withdrawn ETH tokens. The massive withdrawals coincided with equally impressive inflows in Lido's ETH liquidity staking pool.
Advertisement

&nbsp

&nbsp
This points to ETH holders showing a desire to lock up their coins in the ETH 2.0 staking contract to earn yield, as this is exactly the service the Lido platform performs. The platform lowers the barrier to staking Ether and makes it easy for smaller investors to participate.
Aside from Lido, the amount of Ether committed to ETH 2.0 staking has been growing rapidly. There are now over 10 million ETH staked, representing approximately 8.3% of the circulating supply of ETH. This represents a 20% increase in the last 90 days and 10% in 30 days.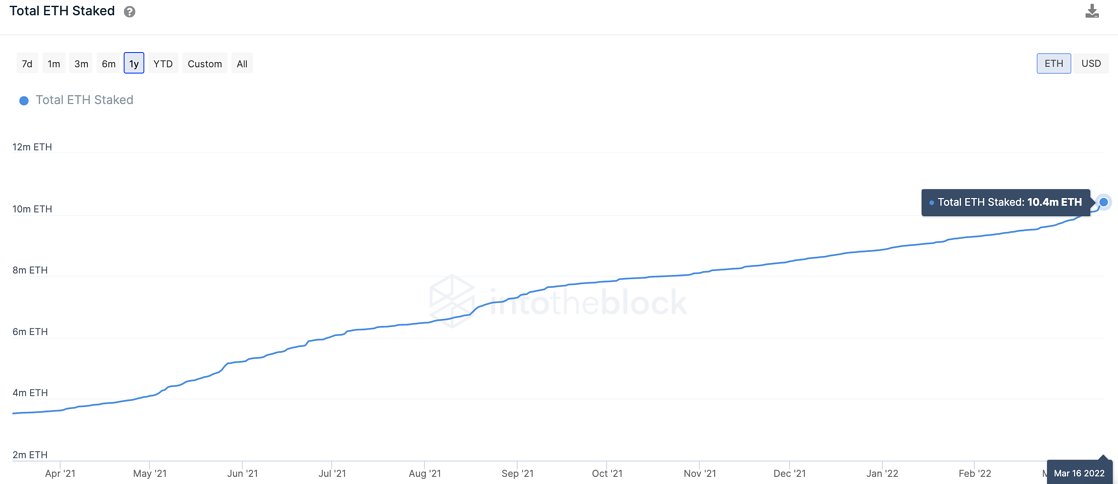 ETH price projections
The second-largest cryptocurrency by market valuation currently trades at $2,962, up 1.82% in the last 24 hours. It has printed a 14.3% gain in the last seven days as well.
While the price of ETH is down around 39.5% from its all-time high of $4,891 reached in November, market pundits remain bullish for the asset. Finders' panel of market analysts predict that the ETH price could reach a new high of $6,500 by the end of 2022.
Similarly, Bill Barhydt, the CEO of crypto trading platform Abra, speculated that the price of ETH could ultimately reach $40,000. Barhydt's confidence stems from the numerous use cases of the token within the Ethereum ecosystem.
"Ethereum's network effect is based on this idea that it could become the world's computers. It's being used for stablecoins, NFTs, DeFi… and gaming now," he told CNBC recently.